The Institute of Medical Science (IMS) offers a wide range of stimulating, research-intensive Master of Science and Doctor of Philosophy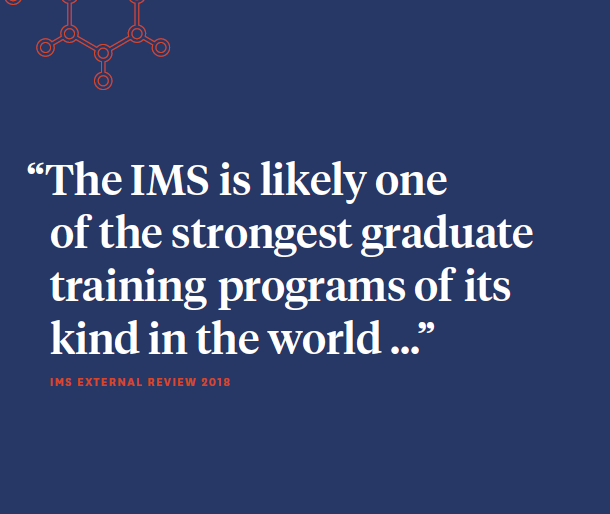 programs in basic sciences, clinical sciences, and population health research. Under the mentorship of one of our faculty members, you will receive specialized training and exposure to Toronto's finest cutting-edge multidisciplinary research. Our graduates have been appointed to instrumental positions as academics and health care professionals in universities, government and industry.
We also offer a Professional Masters Program – the Master of Science in Biomedical Communications.
With over 600 faculty and 550 students, the IMS was established to foster education and scholarship in the Clinical Departments of the Faculty of Medicine. We specialize in translational research with a strong emphasis on bench-to-bedside clinical applications. We are a graduate unit of choice for MDs who seek training as a clinician investigator.
Degree candidates have the opportunity to conduct research in one of four training areas:
Bio-medical science;
Clinical science;
Health systems and services; and
Population health
Each stream offers a variety of multidisciplinary studies in fields such as cardiovascular sciences, neuroscience, bioethics, membrane biology, respiratory medicine, transplantation and psychosomatic medicine.
The MSc and PhD graduate programs are full-time, research intensive, on-campus programs. We offer a wide range of courses — from Neuroanatomy to Regenerative Medicine  and Cardiovascular Science. Students also have access to the breadth of University of Toronto graduate courses outside of the Institute.  Get to know what we do by exploring the Faculty Search Tool.
We also participate in numerous University of Toronto Graduate Collaborative Specializations, which provide great opportunities for students to develop multi-disciplinary research skills and collaborations.
Here's how our students are making an impact on improving human health.
IMS Mission
Our mission at the IMS is to become a global leader in graduate education to improve human health through translational research.
Our aim is to provide:
An enriched graduate culture with emphasis on scholarship in translational research. In this context, the term 'translational' has been taken by the IMS to encompass 'bench to bedside to community', or more simply 'cell to society';
Advanced research training for both physician and non-physician graduate trainees;
Access to graduate appointments for faculty in clinical departments, to enable them to supervise graduate trainees;
Advanced training in IMS graduate professional programs.
IMS History
The IMS was originally established in 1968 to serve as the graduate unit for the clinical departments in the Faculty of Medicine at the University of Toronto. The basic science departments and other departments in the Faculty of Medicine have their own graduate departments, although many faculty members in those departments also have graduate faculty appointments in the IMS. With 11 clinical departments, many with large numbers of faculty members, the IMS is the largest graduate unit in the Faculty of Medicine.
Administrative Location of the IMS
The IMS team is physically located in the suite of IMS offices on the ground floor of the Medical Sciences Building at the University of Toronto. This physical location is optimal given the close proximity to the administrative core of the Faculty of Medicine and the research core clustered in the designated 'Discovery District' of the city of Toronto. This region encompasses the St. George (downtown) campus of the University of Toronto and the cluster of major teaching hospitals and their affiliated research institutes immediately adjacent to the south.