The Summer Undergraduate Research Program (SUR

P) culminates in an annual

Research Day that provides students the opportunity to showcase their work to a diverse audience of faculty and students.
This event is designed to highlight and celebrate summer student research and allows students to experience a conference environment where they can present and discuss exciting summer research. Networking between faculty and students is encouraged, although this year the event will be delivered on the virtual platform, gathertown. We look forward to seeing your avatar there!
The SURP Research Day takes place every August. Students present their summer research in either a podium or poster presentation and a keynote address is delivered by a selected prominent IMS faculty member.
We are thrilled to have

Dr. Najma Ahmed

present the 2021 SURP Research Day Keynote Address
Talk title: Acumen to advocacy to action: the role of physicians and health advocates
Dr. Ahmed completed Medical School and General Surgery Residency at McGill University. She holds a PhD in Surgical Infections and Sepsis. Following Residency, Najma pursued fellowship training in Trauma Surgery and Critical Care at the University of Michigan and the University of Toronto.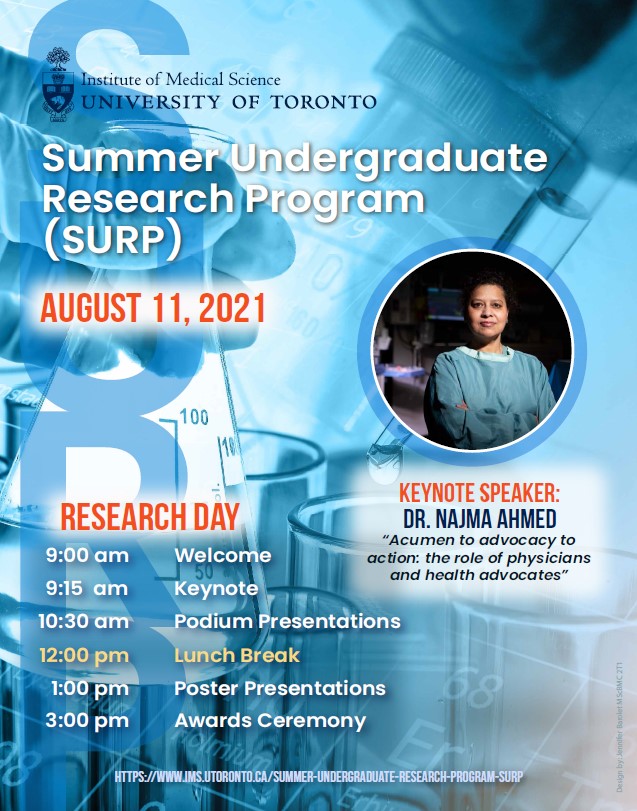 Najma was recruited to St. Michael's Hospital in the Division of General Surgery in 2001. Her clinical focus and practice is in Acute Care Surgery, Trauma and Critical Care. She has been committed to clinical training processes and outcomes since the beginning of her career. From 2008 until 2018, Najma was the Residency Program Director for General Surgery, responsible for the largest and arguably most complex surgical training program in North America. Under her leadership, the program was known for its stellar clinical and academic training, diversity and engagement of trainees.
She holds the positions of Vice Chair of education, Department of Surgery at University of Toronto and Professor of Surgery. In this role, she provides visionary leadership for training success for medical students, residents and fellows, as well as career success of surgeon-teachers within the Department of Surgery. Her contributions to post graduate surgical education have been recognized by numerous awards, including the prestigious Royal College AMS/Donald Richards Wilson Award in 2016.
Her scholarly activities relate to Resident duty hours, Resident wellness and the application of a competency based framework to surgical training. In 2019, she joined the Royal College is a Clinician-Educator. She recently was awarded the CMA Canadian Medical Association, Sir Charles Tupper Award for her work on physician advocacy related to gun violence prevention.
Najma has provided trusted leadership as Surgeon-in-Chief at St. Michael's Hospital over the last many months, and especially during the unprecedented period of the COVID19 pandemic.
See the SURP Research Day Abstract Booklet by
clicking here.
Poster design: Jennifer Barolet