IMS Magazine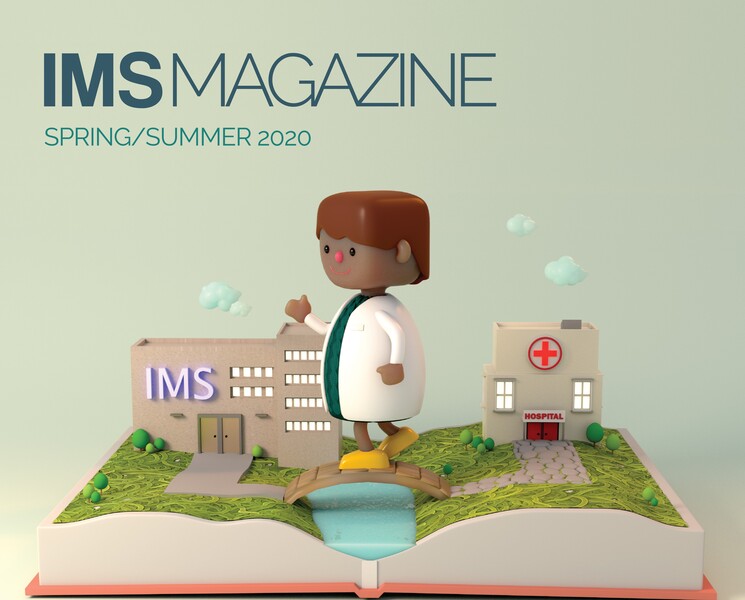 The IMS Magazine is a student-led science communication initiative showcasing the department's diverse research and the incredible people behind it. We produce a quarterly print magazine as well as online content that highlights the innovative projects and fascinating lives of IMS members.
Our mission
We have three main goals. First, to broadly share IMS research through accessible and engaging stories. Second, to promote connection within the IMS community. And third, to train the next generation of medical researchers and clinicians to be strong science communicators capable of translating and transferring their knowledge to society.
Our achievements
Our large team of writers, editors, photographers, and graphic designers is made up entirely of IMS graduate and MSc Biomedical Communication students. Each issue we decide on a research theme to feature, and interview IMS faculty and students at the forefront of this field. Past issues include topics such as Women's Health, Rare Diseases, and Emerging Medical Technologies. Each issue also features thought-provoking opinion articles on controversial topics in healthcare and society, spotlights on inspirational IMS members, and coverage of important IMS events. Book reviews and travel logs offer an inside look at the lives of IMS students outside the lab.
Since it was first conceived by MSc student Natalie Venier in 2011, IMS Magazine has produced three to four issues per year covering the immense spectrum of basic and clinical IMS research, from genomic medicine to clinical trials. From ground-breaking discoveries to personal accounts of adversity and triumph, the magazine has served as a chronicle of life in the IMS. In 2018 we published a special issue celebrating IMS' 50th Anniversary featuring a retrospective on the department's history as well as the exciting new possibilities in its future.
Who should connect with us?
Being a member of the IMS Magazine team means getting the opportunity to learn more about science both within and outside of your field. It encourages you to expand your thinking and bridge the gap between basic and clinical, theoretical and applied, science and society. At IMS Magazine, you will learn the importance of storytelling - how to communicate complex ideas and convey key messages to your target audience, whether they are academics, policy makers, or the public.
If you're interested in learning more and joining the team, you can email theimsmagazine@gmail.com or visit our website.
You can also follow us on Twitter and Facebook and check our back issues.