Ori Rotstein Lecture in Translational Research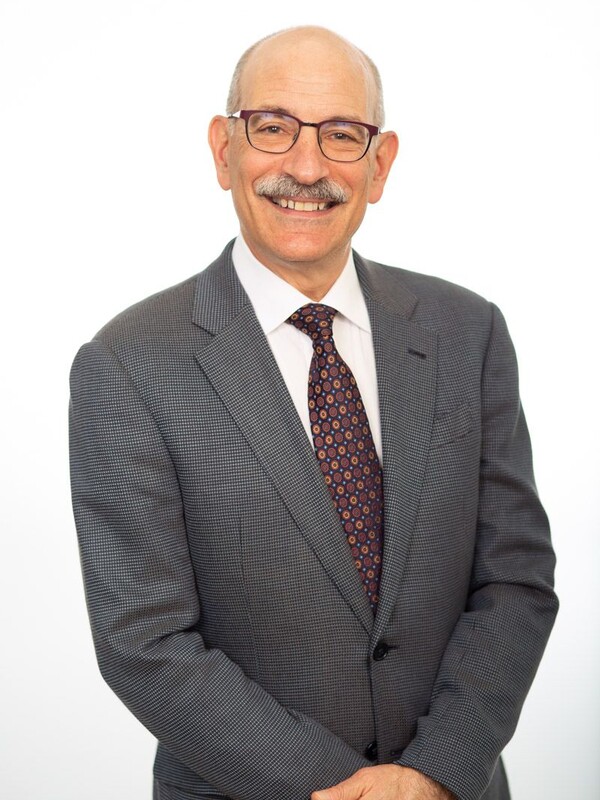 The Annual Ori Rotstein Lecture in Translational Research is an important event for the Institute of Medical Science - it is a time to celebrate the exceptional scientific contributions of our scientific community.
The Ori Rotstein Lecture in Translational Research was established in 2011 to mark Dr. Rotstein's 25-year engagement with the IMS. Dr. Rotstein is an IMS Alumnus, former IMS Director (2000-2010) and long-standing faculty member. Dr. Ori Rotstein is now the Vice President of Research and Innovation at Unity Health Toronto. He is also a Professor and Associate Chair of the Department of Surgery at the University of Toronto. We are honoured to have him come back and host this Annual Lecture each year.
2023 Lecture:
Thanks to everyone who joined us, and to all the speakers and organizers for creating such an inspiring and insightful event!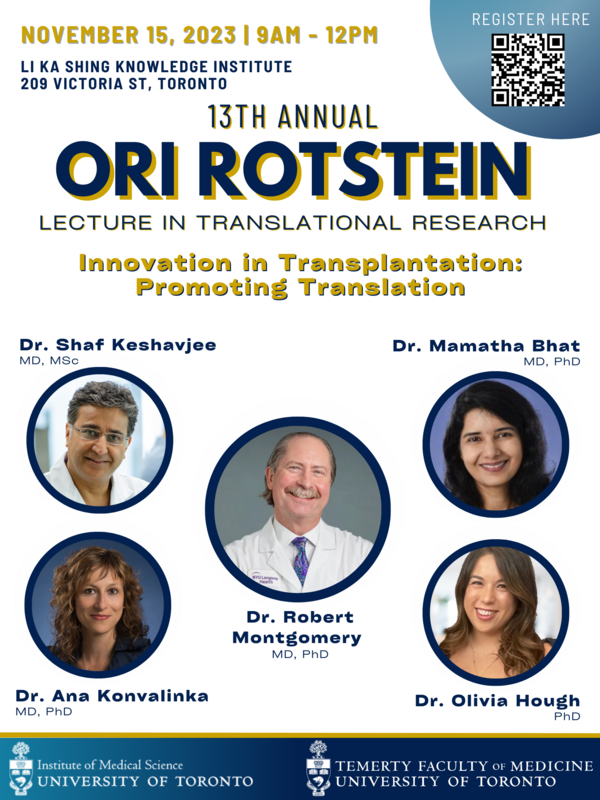 The 2023 lecture featured keynote speaker Dr. Robert Montgomery, MD, PhD. Dr. Montgomery is Professor and Chair of the Department of Surgery and Director of the NYU Langone Transplant Institute.
Dr. Montgomery was part of the team that developed the laparoscopic procedure for live kidney donation, a procedure that has become the standard throughout the world. He and the Hopkins team conceived the idea of the Domino Paired Donation (kidney swaps) and the Hopkins protocol for desensitization of incompatible kidney transplant patients, while he also performed the first chain of transplants started by an altruistic donor. 
He is credited in the 2010 Guinness Book of World Records with the most kidney transplants performed in one day. He is considered a world expert on kidney transplantation for highly sensitized and ABO incompatible patients and is referred the most complex patients from around the globe.
The keynote was followed by an insightful research panel on the topic of "Innovation in Transplantation: Promoting Translation" with Drs. Mamatha Bhat, Olivia Hough, Ana Konvalinka, Shaf Keshavjee and Robert Montgomery.
Ori Rotstein Lecture Planning Committee Members
Faculty Co-Chairs: Drs. Lucy Osborne and Marianne Koritzinsky
Staff Lead: Sobiga Vyravanathan
Student Co-Leads: Crizza Ching and Anisa Nazir
Graphic design: Kristina Zhang, Yasmin Alhamdah, Ratul Sabrina Rasna and Raesham Mahmood
Video Editing: Sonika Kumari, Shaghayegh Foroozan Boroojeni and Samantha Ricardo
Panelist Communications: Angela Mathews, Sonika Kumari, Stephanie W Benjamin and Raesham Mahmood
Promotions and Marketing: Kayla Baker, Syed Ahmad, Stephanie W Benjamin and Raesham Mahmood
MSC1010 Course Liaison: Raesham Mahmood