Driven by Difference
Current Students
One student's fight for acceptance and equity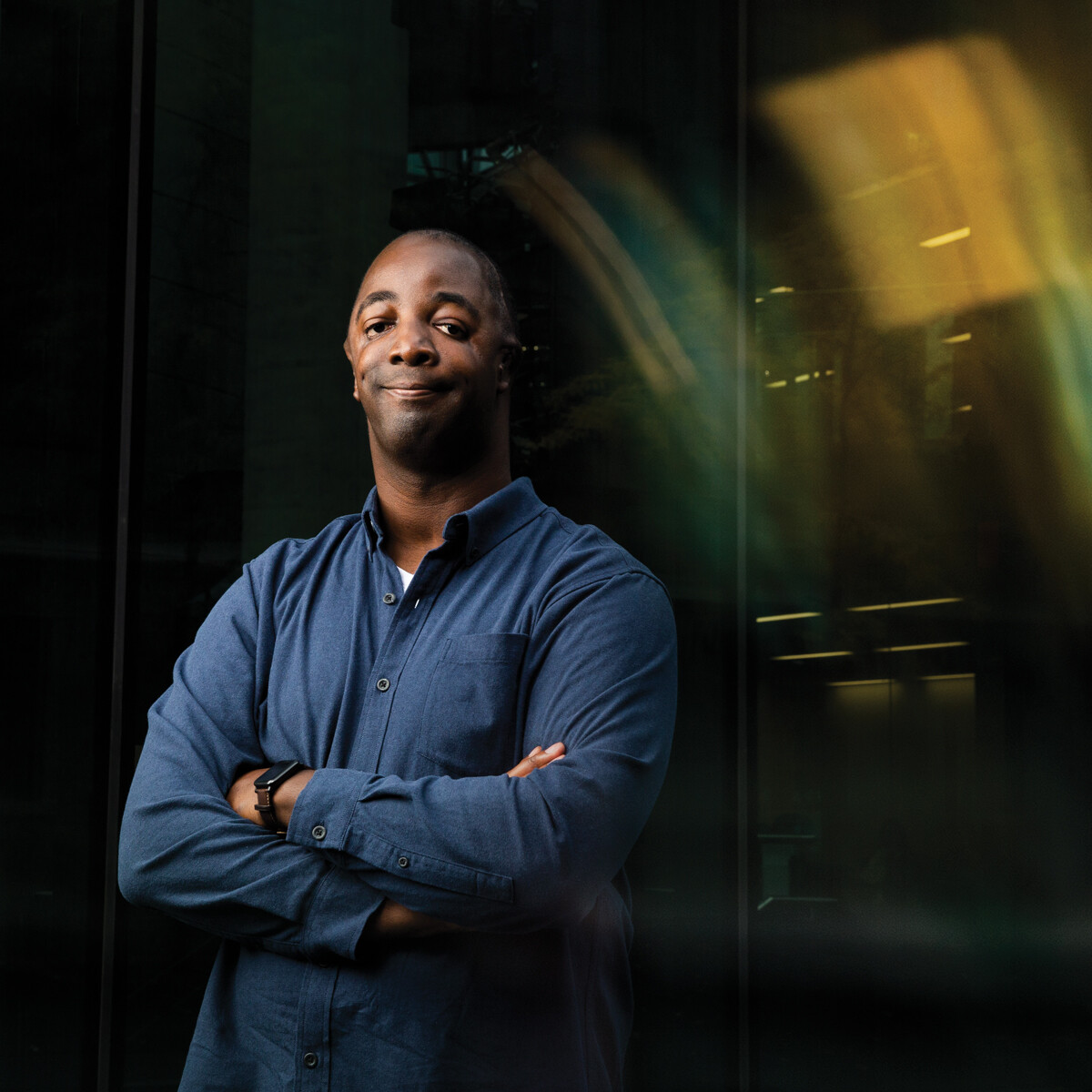 Photography by Jacklyn Atlas
What do you see when you  look at someone's face? My emotions? My history? My life?
I definitely don't have a regular story. But I do have experiences that have led me to a life of research and to helping build a community that's commonly misunderstood.  
In 1987, I was officially diagnosed with Treacher Collins Syndrome, a rare genetic disorder that affects one in as many as 50,000 babies. This rare disorder affects the way a baby's cheekbones, jaws, ears and eyelids develop before birth, leading to impacts on breathing, swallowing, chewing, hearing and speech. I prefer when people refer to the syndrome as a facial difference.
For me, the difference started early. After I was born, the hospital staff initially suspected I had a problem with my ears. It wasn't until I was three months old that my parents received the diagnosis of Treacher Collins Syndrome, or TCS for short. 
For me, TCS has resulted in hearing loss, consistently watery eyes and sleep apnea. I also have trouble in opening my mouth wide, which leads to challenges with eating and dental examinations. Having TCS meant that throughout my childhood, many people tried to set limits on what I could do. These limitations, which most people with a facial difference encounter, are often based on misconceptions; and growing up with a facial difference in Pickering, Ont., had its fair share of misconceptions. 
I first realized I looked different at the age of five and asked my mother why. From that moment, I became acutely aware that I am different from my peers, my friends and my family — simply because I'm the only one with TCS.
Other children noticed, too. I dealt with bullying and teasing, particularly in elementary school. There were even teachers in both elementary and high school who assumed that due to my difference, I had a cognitive delay. That's just wrong. My intellect and character aren't tied to my facial difference. But, those early experiences pushed me to be the best version of myself.
Pushing back 
As an adult, I've dealt with my fair share of whispers, stares and pointing.
This feels diminishing. I am grateful for my parents and younger sister who pushed back against stares or answered questions when I wasn't up to dealing with them.
After diagnosing me, our paediatrician referred us to the Hospital for Sick Children, where I met a talented team of doctors who would later inspire me to embark on a research career.
During my care at SickKids — I was seen by people from several departments. Much of my time was spent with Professor Christopher Forrest, the chair of Temerty Medicine's Division of Plastic, Reconstructive & Aesthetic Surgery. As my primary surgeon, he coordinated with my other doctors and always took the time to talk to me about what was going to happen with each plastic surgery. 
Each of these doctors knew how to make me smile. They made me feel like a person and not a condition. I wanted to be that person for someone else. But it hasn't been easy. Growing up, the lack of information about my condition was overwhelming at times.
Over the years, I've had more than 20 reconstructive surgeries for my ears, cheekbones, jaw and eyes. I received a bone-anchored hearing aid when I was 12 years old. During the course of these surgeries, my parents had their worries about what kind of life I would lead. Would I have friends? A job? Relationships? The answer has turned out to be yes, but it wasn't always so clear back then. I try to focus on the good.
Speaking out
In November 2000, when I was 12, I spoke at the University of Toronto about my experience of living with TCS. In Convocation Hall, I got up in front of hundreds of medical students waiting for a kid to share his story. It was such an honour to stand there and speak to future clinicians and encourage them to be hopeful, communicative, and kind to their patients and families. It was a formative moment for me because I felt comfortable and accepted. I thought to myself, "This is where I belong." I belong among academics and medical professionals. I promised myself that I would come back to U of T as a student because in that space, when they looked at me, they didn't see me for my facial difference. They looked at me for who I was and what I was able to accomplish. They saw me in a similar way that I saw myself. 
My love of research and interest in medicine led me to graduate with an honours bachelor of science from U of T, and I'm now doing my doctoral studies at the Temerty Faculty of Medicine. 
For me, being part of the charity AboutFace also changed my life. I was introduced to the organization when I was very young, and we've been connected ever since. AboutFace provides support and resources to members of the facial difference community across the country. Last year, we worked with more than 1,300 people. It has given me a way to connect with other people who have lived experiences of what it's like navigating facial differences. It has also built my self-esteem and self-advocacy skills. The organization helped me so much that I worked for it as a volunteer for 20 years. Now, I serve as its board president and chairperson.
Accept me as I am
As we continue to have conversations around how our society treats gender, race and disability, it's important to include people with facial differences. As a Black man with a facial difference and hearing loss, I wish people to acknowledge and accept me as I am. I know that not all people with a facial difference mirror my experience. Some experience micro-aggressions, while others are subjected to severe bullying, harassment or discrimination — just based on their appearance. I want to help change things for others.
When I was close to finishing my undergraduate degree, I went to Christopher Forrest for career advice. He recognized my growing passion for research and encouraged me to follow it. My experiences inspired me to pursue my dream of research in craniofacial health outcomes. Today, I am a clinical research project manager at SickKids, and Christopher Forrest is my PhD supervisor. My doctoral work will look at the barriers to cleft lip and palate care for paediatric patients.
Cleft lip and palate is the most common facial difference in Canada; every year, it affects 400 to 500 infants. The way people with cleft lip and palate receive care can depend on a variety of factors, which range from socioeconomic status, to ethnicity, to their distance from a primary care centre. I plan to explore how each factor impacts patients in Ontario, and how it affects the timing of their surgeries. 
More than two million people in Canada live with a facial difference. That's two million people who desire acceptance and equity. With that in mind, I am driven to educate the public about facial differences, and empower the people who have them. It's important to recognize that our facial differences are part of who we are. But, it's not all that we are. Look at me. ▲
Kariym Joachim (BSc '10) is a PhD student at Temerty Medicine's Institute of Medical Science.